There's a sex toy for dogs. No, I'm not kidding. I was browsing the
Huffington Post's
"Stupid Products" section when I came across it.
This has to be a joke, I thought. I turned to my trusty Google, and sure enough, it exist.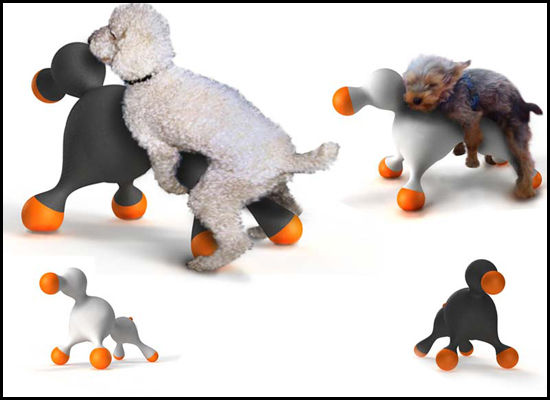 The Hotdoll site has a lovely video naming the apparatus's attributes: curves, fluidity, contemporary, stability, and audacity. Why audacity? For it's back opening, of course. Like I said, I can't make this up. The Hotdoll is the first of its kind (imagine that!), created by the French for the maximum comfort of your pet.
The Hotdoll is only 149 Euros, or 200 American dollars. What a steal! Best of all? You can get the spare silicon part for only $20 bucks. Cause you know your boy will wear it out after a while ...
I would LOVE to know how many of these have been sold. The website has a community link with 20 customers listing their dogs and "companions," all with names, of course.
What do you think? Too over the top? Are you laughing yet?